About NCC
NCC Army wing for senior division boys and senior wing girls was started in Arasu Engineering College in the year 2019. Group Commander Colonel R. Shivanathan had given permission for the new rising of NCC unit in our college.
Our NCC unit was initiated with 52 cadets. The strength of the senior wing is 33%. All the cadets are selected based on their skills and ambition. The Cadets are given basic military training in small arms and parades.
Our NCC unit is under 8 TN BN NCC-Kumbakonam, the commanding officer of the unit is Lieutenant colonel. Vinod K. Chhaunkar SM
NCC FLAG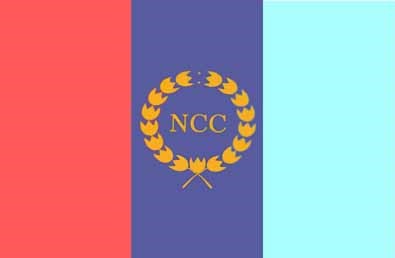 MOTTO OF NCC: (Ekta aur Anushasan)
The "Unity & Discipline" is the motto of NCC previously it was "Duty& Discipline" in the year 1978.
AIMS OF NCC
The NCC aims at developing the Characteristics, Comradeship, Discipline a secular outlook, the spirit of adventure and the selfless service among young citizens.
It aims to develop and motivate youth with good leadership skills with the help of NCC one can shine as with good citizen not only in the society but also in the nation
OBJECTIVE OF NCC
It creates a Human resource of Organized, Trained & Motivated youth
It provides the Leadership
It provides an appropriate environment to motivate the youth to take up the carrier in the Armed Forces.
PLEDGE
We the cadets of the National Cadet Corps,
do solemnly pledge that we shall always uphold the unity of India.
We resolve to be disciplined and responsible citizens of our nation.
We shall undertake positive community service in the spirit of selflessness
and concern for our fellow beings.
NCC SONG LYRICS
Hum Sab Bharatiya Hain, Hum Sab Bharatiya Hain
Apni Manzil Ek Hai,
Ha, Ha, Ha, Ek Hai,
Ho, Ho, Ho, Ek Hai.
Hum Sab Bharatiya Hain.
Kashmir Ki Dharti Rani Hai,
Sartaj Himalaya Hai,
Saadiyon Se Humne Isko Apne Khoon Se Pala Hai
Desh Ki Raksha Ki Khatir Hum Shamshir Utha Lenge,
Hum Shamshir Utha Lenge.
Bikhre Bikhre Taare Hain Hum Lekin Jhilmil Ek Hai,
Ha, Ha, Ha, Ek Hai
Hum Sab Bharatiya Hai.
Mandir Gurudwaare Bhi Hain Yahan
Aur Masjid Bhi Hai Yahan
Girija Ka Hai Ghariyaal Kahin
Mullah ki Kahin Hai Ajaan
Ek Hee Apna Ram Hain, Ek hi Allah Taala Hai,
Ek Hee Allah Taala Hain, Raang Birange Deepak Hain Hum,
lekin Jagmag Ek Hai, Ha Ha Ha Ek Hai, Ho Ho Ho Ek Hai.
Hum Sab Bharatiya Hain, Hum Sab Bharatiya Hain.